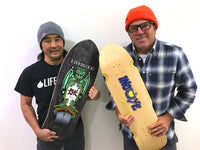 Our Mission
Lifeblood aims to offer you select releases of limited edition signature skateboards with classic shapes from the 70s, 80s and 90s. In the months and years ahead, we'll collaborate with those who've inspired us early on and fueled our progression since we took our first push.
This holiday season we bring back two original signature shapes and graphics that have influenced and contributed to skateboarding's history. Tom "Wally" Inouye's Retro Stinger deck and Bryce Kanights' Gargoyle street shape are available for purchase just as they were in their first released colorways.
Roll along with us. Thanks for your stoke and support!